Data Doctor Recovery Removable Media for Mac
MAC USB digital media data recovery software restores deleted, lost important official documents, project files and other crucial data from all kinds of USB removable media drives. Data undelete utility for Apple Macintosh OS X provides comprehensive recovery of your lost files which are saved in any types of file format.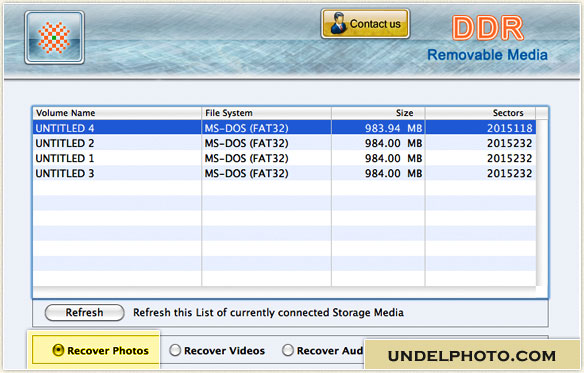 ✔ Why to prefer Mac USB Digital media data recovery software:
Restore missing, misplaced audio, video and text files from logically corrupted USB removable media of all capacity.
Undelete lost word documents, digital photographs and other valuable data within minimal time.
Salvage lost mp3/mp4 songs, pictures and your precious images by using "Advanced search" and "Standard search" algorithms.
Recover accidentally deleted crucial files, important documents from USB digital media at cost effective price.
Retrieve missing, misplaced data even if any system generated error message display on Apple machine while you are accessing USB removable media on your machine or laptop.
✔ Essential Features:
MAC USB digital media file undelete software uses deep disk scanning algorithms to recover your lost data from formatted USB removable media.
Removable media data recovery utility for Macintosh OS X provides enhanced recovery of your deleted encrypted and compressed files.
MAC USB drive data salvage application retrieves missing important official files, essential documents in few easy mouse clicks.
Easy to use utility salvage misplaced data from various kinds of USB digital media of any capacity.
Software provides risk solution to recover deleted, lost files regardless of their extensions.
✔ Supports various types of USB removable media including:
◘ Thumb drives
◘ Pen drive
◘ Jet flash
◘ Micro SD card
◘ Smart Media
◘ Key chain drive
◘ USB hard drives
◘ Mini SD card
◘ Jump drives
◘ External Hard drives
◘ Compact Flash
◘ Memory stick
◘ Flash drives
◘ USB flash drives
◘ Memory stick pro