Data Doctor Recovery Pen Drive
Data Doctor Recovery Pen Drive software is used to recover lost files and folders, music files, digital images, photo images, games, snaps, word, excel, power point, access office documents and application programs from USB pen drives (or popular as Pen Drive, Memory stick, Key drive, Thumb drive, Micro drive, Geek drive, Super stick etc.). Memory stick file retrieval tool undelete and retrieve lost data due to accidental format, virus attack, software or human error, hardware failure, improper usage, or even when pen drive is pulled out from computer without having message "safe to remove or drive is not formatted".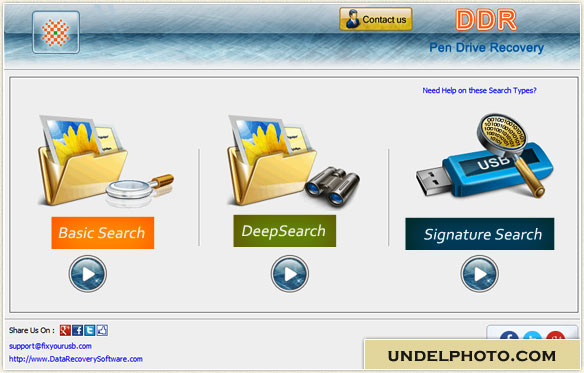 ✔ Supported Digital Media Brands: Canon, Nikon, Casio, Kodak, Konica, Kingston, Samsung, Sony, Super Talent, Toshiba and more
✔ Supported Pen Drives: Pen Drive Pro, Pen drive Mini, Pen drive Blue tooth Dongle, Pen drive iVO FR, Pen drive mp3, Pen drive camera, Pen drive compact, Pen drive micro, and Pen drive business drive etc.
✔ Supported file formats: midi, avi, png, bmp, jpg, jpeg, gif, riff, tiff, 3gp, wav, midi, and many more.
✔ Supported text file formats: xls, ppt, doc, mdb, rtf, html, txt, and more text based files formats.
✔ Data Doctor Recovery Pen Drive software is enriched with the following features:
Super stick data restoration package has read only permission so it does not affect other files in disk and extract delete files safely.
Supports recovery even when "Drive is not detected" message is displayed on your computer screen while accessing Memory stick in My Computer drive of your Desktop PC.
Safe and easy to use even for a non technical user.
For easiness of user, utility provides step by step help manual to recover deleted records in GUI (Graphical User Interface) format.
Successfully undelete lost files and restores at user specified location.
Utility has less processing time required to perform recovery.
Support all major Memory stick brands in all capacities including 64 MB, 128 MB, 256 MB, 512 MB, 1 GB, 2 GB, 4 GB, 8 GB and even higher capacity drives.