Data Doctor Recovery Memory Card
With ever increasing memory cards used by Mobile communicator, PDA, Handheld, Smart phone, Pocket PC, Mp3 player, and Video game console etc. tiny storage devices becoming increasingly popular. Data Doctor Recovery Memory Card Software automatically recovers all erased, lost, missing, deleted, corrupted, or crashed files and folders including photos, movie clips, images, documents and text files, and audio/video files, from various memory card supportive devices. Flash memory card recovery application is the quickest recovery tool that retrieves and undeletes data lost due to malicious format, virus attack, software or hardware failure, human error etc.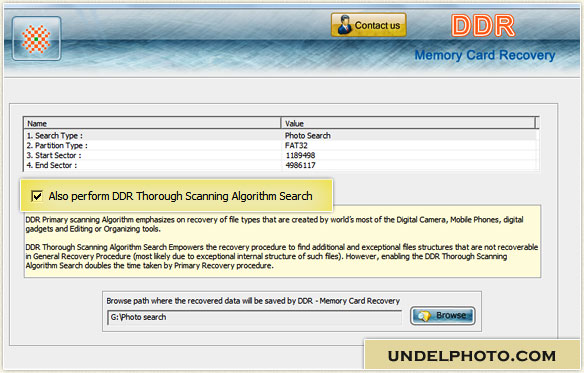 ✔ Supported memory cards, files formats, and memory card manufactures:
◘ Supported memory cards: Compact Flash card, Memory Stick, Memory Stick Duo, Memory Stick Pro, Memory Stick Pro Duo, Secure Digital card (SD), SD gaming cards, MiniSD, MicroSD, TransFlash memory card, PC cards, Multi Media cards (MMC) cards, Reduced MMC card, and Universal Flash storage etc.
◘ Supported Files Formats:
Picture: jpg, jpeg, tif, gif, tif, png, bmp.
Video: mpg, avi, mpeg, mov, asf.
Audio: mp3, mp4, wav and more
✔ Supported major Digital Memory Card Manufacturers and Capacities:
SanDisk, Kingston, KingMax, Sony, Lexar, Toshiba, Panasonic, Fujifilm, Samsung, Canon, Transcend, Apacer, Hitachi, Olympus, SimpleTech, Viking, Flash Media, ATP and all major memory card brands in all capacities including (128 Mb, 256 MB, 512 MB, 1 GB, 2 GB, 4 GB etc.).
✔ Memory card data retrieval utility features:
Our unique and exclusive Smart Scan technology locates and restores files within a minute's time interval.
Support recovery from damaged, unreadable, or defective memory cards.
User can view all recovered data in a visible representation by using preview option.
Support recovery when data is lost due to turning your memory card operative device off during a write/read process.
Safe and risk-free read-only utility that doesn't move, delete, and modify the data on the card to avoid causing further damage.