Data Doctor Recovery iPod
Data Doctor Recovery iPod Software scans the whole iPod media to recover or restore your lost mp3 music, music files, graphics, videos, documents, and all previously existing data from your corrupted or crashed iPod in almost all cases of corruption and crash. Professional iPod data retrieval tool ensures recovery of data which have been corrupted, damaged, or deleted from your iPod due to malicious format, virus attack, improper knowledge of how to operate the device, software or hardware malfunction or even improper system shut down while accessing iPod on your Computer or Desktop PC.
You might have a problem in opening a image file, playing songs from iTunes or perform any activity on your iPod due to any case of crash; you might see error messages being displayed on your screen. Our Award Winning iPod data salvage software ensures recovery of data in all cases of data lost or damaged.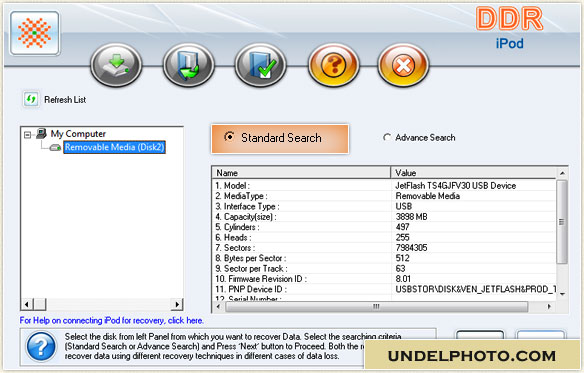 ✔ Supported Apple iPod Models and Storage Capacity: iPod Mini, iPod Nano, iPod Shuffle, iPod Video, iPod Hi-Fi, iPod U2 in all iPod First to latest (Sixth) generation series. in all major capacities including 1 GB, 2 GB, 4 GB, 20 GB, 40 GB, 60 GB, and 80 GB audio video models.
✔ Supported file formats:
Audio: mp3, aac, aiff, wav, m4a etc.
Video: mpeg4
Images: jpeg, gif, bmp, png etc.
✔ Featuring advanced technology of Data Doctor Recovery iPod data rescue package has following attributes:
Preserves corrupted song files saved in different formats including, mp3, mpeg, wav and other songs files.
Ensure recovery when data is lost while transferring from your PC to iPod using iTunes media player.
iPod retrieval tool not only enables you to retrieve and unformat deleted data but also save your data at safe location.
Recover data if accidental iPod reset or restore operation is performed.
Supports repairing of data even if "Drive is not detected", message is displayed on your computer screen or iPod partition drive volume is not recognized while accessing iPod on Laptop or Desktop PC.
Safe and easy to use with quickest recovery attributes.